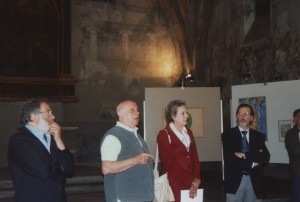 Giuseppe Piovanelli lives close to the Sistine Chapel of Camonica valley, where Romanino summoned the fishers of the lake and the woodcutters of Grignaghe to perform the Passion on its walls. Amleto Romele with his fair ardour has been his companion in his apprenticeship to art. The water and the sky act as compass for his way of living.
Instinct and spontaneity play ancestrally within him, they are the inheritance of blood and land conveyed into teaching: a simple gesture marks the start for a sketch where the spring of a brook is seen or a round doodle reproducing in the apple of discord the myth of handsome Paris, favoured by Venus. In the ring-a-ring o' roses of the line flows the desire to express oneself; in a graph, automatism comes true.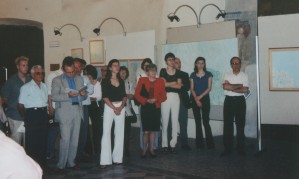 In Giuseppe Piovanelli's daydreaming, "presences" from the suggestions of the past are linked together. They unceasingly beat, swell, rise up to expand themselves and perpetually give birth (either on paper or canvas) to a tale of feelings, legends, spells to be projected into the future. In the meantime, the primordial world harbours itself in the sign, in what exists starting from the very graffito - the reminding, the evidence, the rock image. The origin of things, the core of essence is there. Later only does all the rest originate: the pleasure of indulging oneself in englobing landscapes, symbols, shapes by inventing a different fauna (Lovely Meeting), by calling at unknown places (Headland), by rejoicing with itimate fervour (Christmas).
Following this diviner who capers along every path of Camune lands (and dares to combine with a rock image- an Olympic goddess- a can of coke) means also to remark the fact that in his chromatic mixtures the glow of fire, the humour of water, the grind of earth, the breath of air become vividly real.
Giuseppe Piovanelli, in the floating of his lapis lazuli blue, makes fireworks of scarlet festivity to explode.
Painting, to the end, is a question of superabundance of veins from which, delight to our eyes and hearts, these epiphanies are given birth.

Il segno, 100 x 70
pastello su carta, anno 1996

Presenza camuna, anno 1988

Venezia 90 x 100 anno 2000
Olio su compensato

Dal Lago Sebino, anno 1997

Chiesetta 2000
Riflesso d'autunno 2001