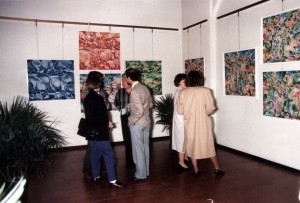 THE LEGENDARY WORLD OF CAMUNI PEOPLE COMES TO LIFE THANKS TO GIUSEPPE PIOVANELLI'S ART WORKS
By Giovanni Falcetta
Piovanelli's painting draws its most intimate inspiration from the prehistoric rock engraving from Camonica Valley, but it is the way this reality is represented by the artist the most amazing and impressive aspect. The fabulous and mysterious prehistoric Camuni's world comes to life in a dreamlike experience bearing a deep emotive participation as if the artist wishes to create a link, a "continuum" between past and present, between legend and history. The artist seems to fight against the silence of the rocks and the dumb graffiti and tries to instil a new vital breath in them by surrounding himself in a magic essential and strongly poetic atmosphere. The figures are naturally created in a phantasmagoria of colours. They appear every now and then as spurs of stylized real human shapes and rocks in spite of a mere informal, abstract play. Signs of a human context are visible, they are surrounded by a polychrome and fluid space, in a metaphysical eternal dimension.